Chicago Summer Meals Kick-Off Event!
To celebrate the start of summer, join Rise & Shine Illinois and our Summer Meals Illinois partners at Dunbar Park on June 24, for a day of food, friends and fun at the 2nd Annual Chicago Summer Meals Kick-Off . Activities and free meals will be provided for all children 18 and under.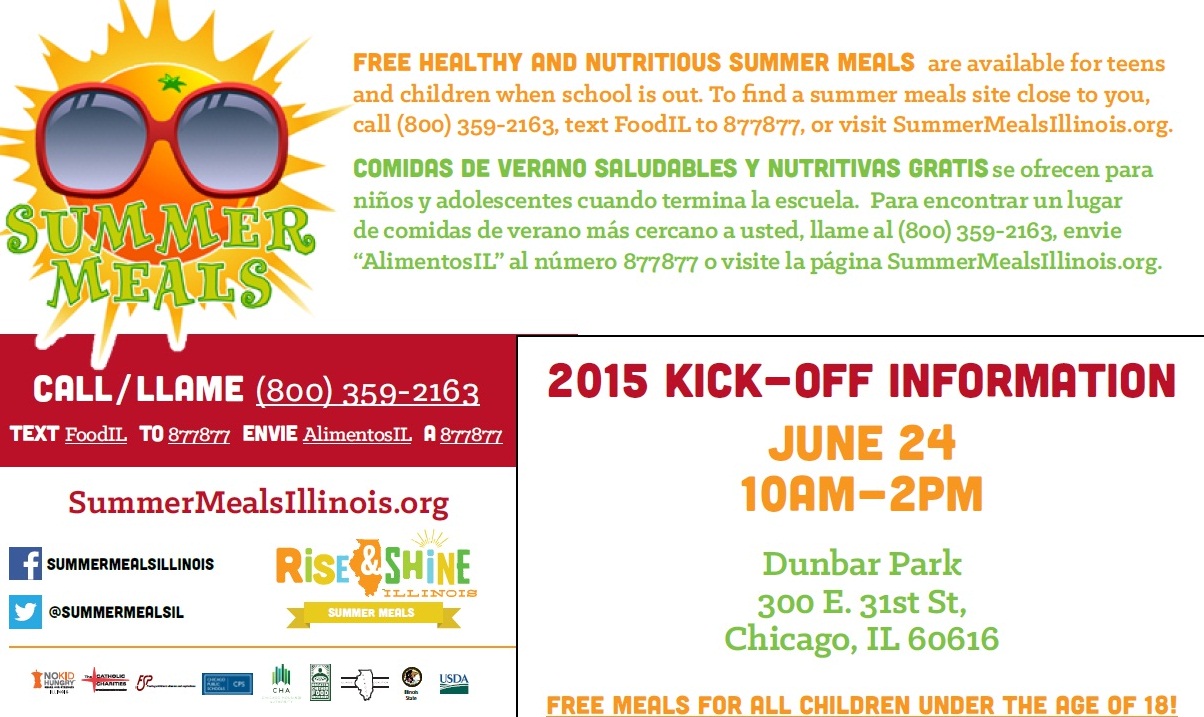 Illinois Summer Food Service Program
Summer is a critical time for children's health and well-being.  During the school year, many children receive free and reduced-price meals through the School Breakfast Program and National School Lunch Program.  However when school is out, these kids no longer have access to school meals and their families' budgets are often stretched to the breaking point. Many families also face the stress of providing safe, supervised and affordable places for kids and teens to socialize, play and continue to learn.
Summer meals programs can help.  The Summer Food Service Program (SFSP) and National School Lunch Program (NSLP)'s Seamless Summer Option (SSO) provide free meals to all children 18 and younger, helping kids who rely on free and reduced-price meals during the school year continue to receive healthy food during the summer at eligible sites in low-income communities.
The Illinois Summer Meals program is funded by the USDA, administered by the Illinois State Board of Education and run by public and private organizations, including schools, community centers and faith-based organizations.
Despite all of the benefits of summer meals programs, they are severely underutilized. In fact in Illinois, only 13.8% of children eligible to for free and reduced-price meals and that receive school lunch, participate in summer meal programming.
HOW CAN YOU HELP FEED MORE HUNGRY CHILDREN DURING THE SUMMER?  Sponsor a program or site!
Illinois has identified 15 counties in the state that have the highest need for additional sites and sponsors.  Targeted counties are:
North – Cook, DuPage, Kane, Lake, Will
Central – Fulton, Logan, Peoria, Sangamon, Tazewell
South – Clinton, Jefferson, Madison, Monroe, St. Clair.
While these counties have been targeted for 2015, every county needs more sites.  In 2014, there were some counties that had none at all.  We can all work together to bring more meals to more children during this critical time period. Become a program sponsor or site.
To obtain additional information about the workshops or to register click here and scroll down to Workshop Information or call ISBE Child Nutrition Program services at 217.782.2491.
For more information, visit the Summer Meals Illinois website.  2015 summer meals sites will be posted soon.